MARCH 27, 2018 – Milost Global Inc. ended talks to provide $1 billion to Nigeria's Unity Bank Plc, saying it received threats that it will be run out of the country if the deal continues.
The New York-based private-equity firm had agreed to provide debt and equity on the understanding that Unity would terminate its Nigerian listing to trade its stock in the U.S., Milost said in an emailed statement on Monday.
The term sheet was signed and approved by the board of Unity, which needed the capital to build its buffers and to expand, the firm said. It would ultimately have acquired 60 percent in the Lagos-based bank.
Shortly after news of the deal broke on Bloomberg, "Milost started receiving threatening emails from a gentleman who says he is politically connected to the powers that could shut Milost out of Nigeria if Milost didn't terminate the Unity Bank transaction," the private-equity firm said. Negative articles started appearing in the local press and last week, Unity issued a "false statement which denied signing a binding commitment agreement," Milost said.
Unity didn't immediately respond to requests for comment.
Other Investments
The private-equity firm has said it is targeting companies that trade at less than half of their intrinsic value using a facility combining debt and equity that it calls the Milost Equity Subscription Agreement.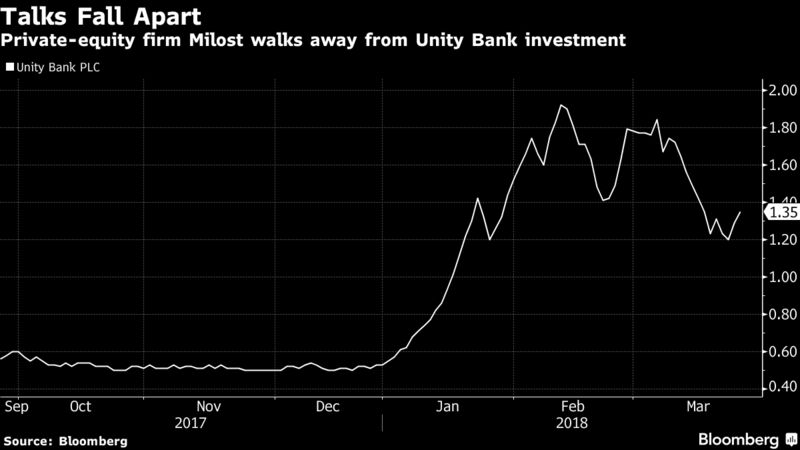 Milost buys shares of companies at a minimum 50 percent premium to their market value, and then pegs the price over the next 90 days. If the securities fail to exceed this threshold, the target company will pay the difference to Milost in the form of extra stock, and a penalty of 10 percent to 20 percent of the discount that the share is trading at over a five-day period. Milost said its agreement with Unity was executed on Nov. 14.